Level up
The colour gamut, printing and you
Sometimes a piece of art looks vibrant and wonderful on screen - verdant greens, brilliant blues - but once printed it looks dull and muddy by comparison. Welcome to the RGB and CMYK colour gamut.
Gamut is one of those words that's used when talking about colour, but it's often not well understood. Let's demystify it so you can achieve better consistency across your games, so they look as rich in real life as they do onscreen.
So many pretty colours - but can you make them look the same when printed as they do on your screen?
In our article CMYK vs RGB: What's the difference? we looked at the two most common colour modes and how they work. We looked at what their purposes are, and how to convert from RGB to CMYK for printing. Right at the end, we mentioned that sometimes artwork that looks vibrant in RGB can end up looking dull and muddy after it's converted to CMYK.
In this article we're going to look at why this can happen.
What is gamut?
The gamut is the complete range or spectrum of something. When we talk about gamut in the context of colour modes or models like RGB or CMYK, we're talking about all of the colours that can be displayed in that colour mode.
The illustration below shows how the RGB and CMYK gamuts compare with each other and the range of colours in visible light.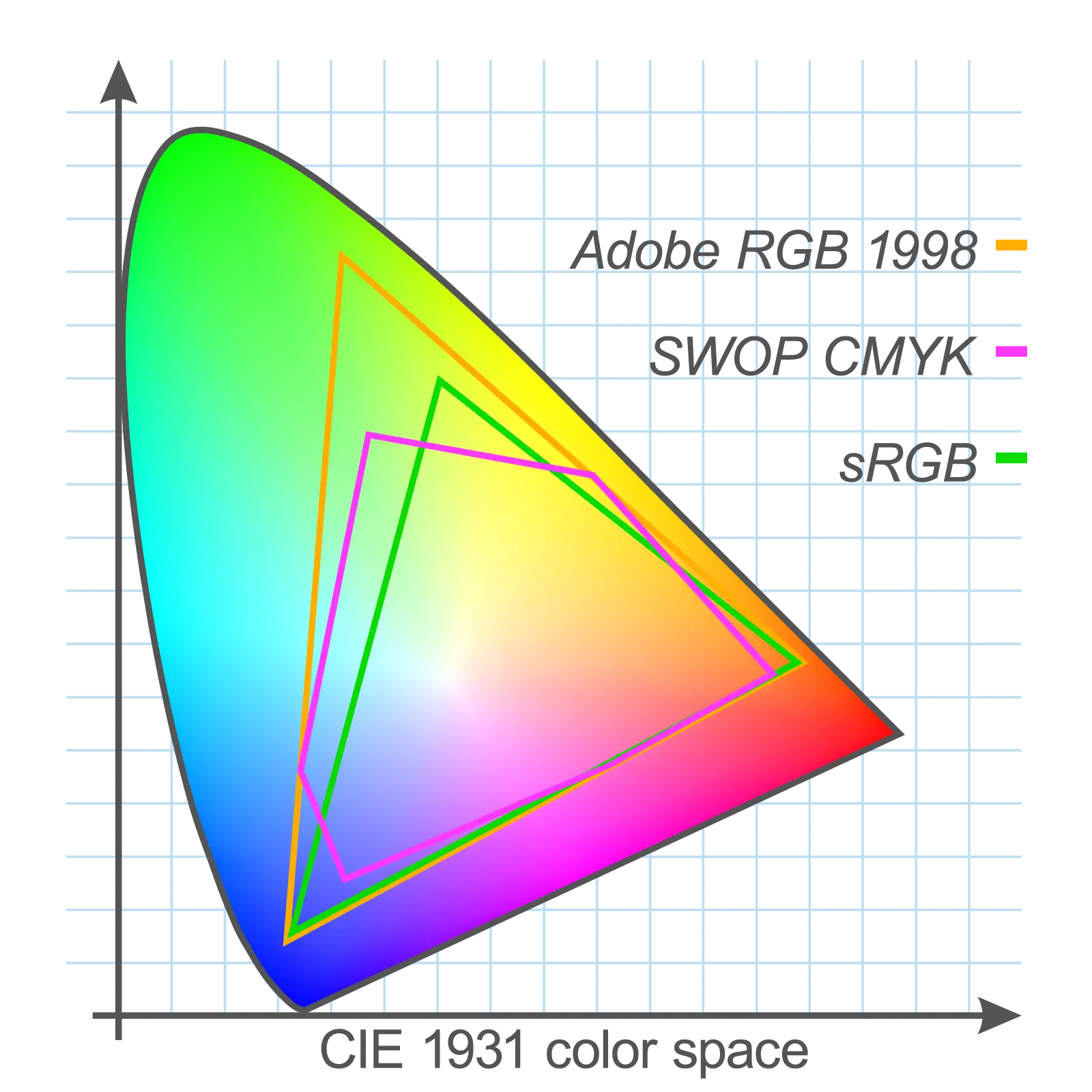 Comparison of gamuts for Adobe RGB, CMYK, and sRGB.
What impact does this difference have?
RGB has a wider gamut than CMYK, which means that not all RGB colours can be reproduced in CMYK (i.e. not all colors on screen can be reproduced in printed ink). This difference is most noticeable when dealing with very bright, vibrant colors. The image below shows exactly how the colour spaces can differ.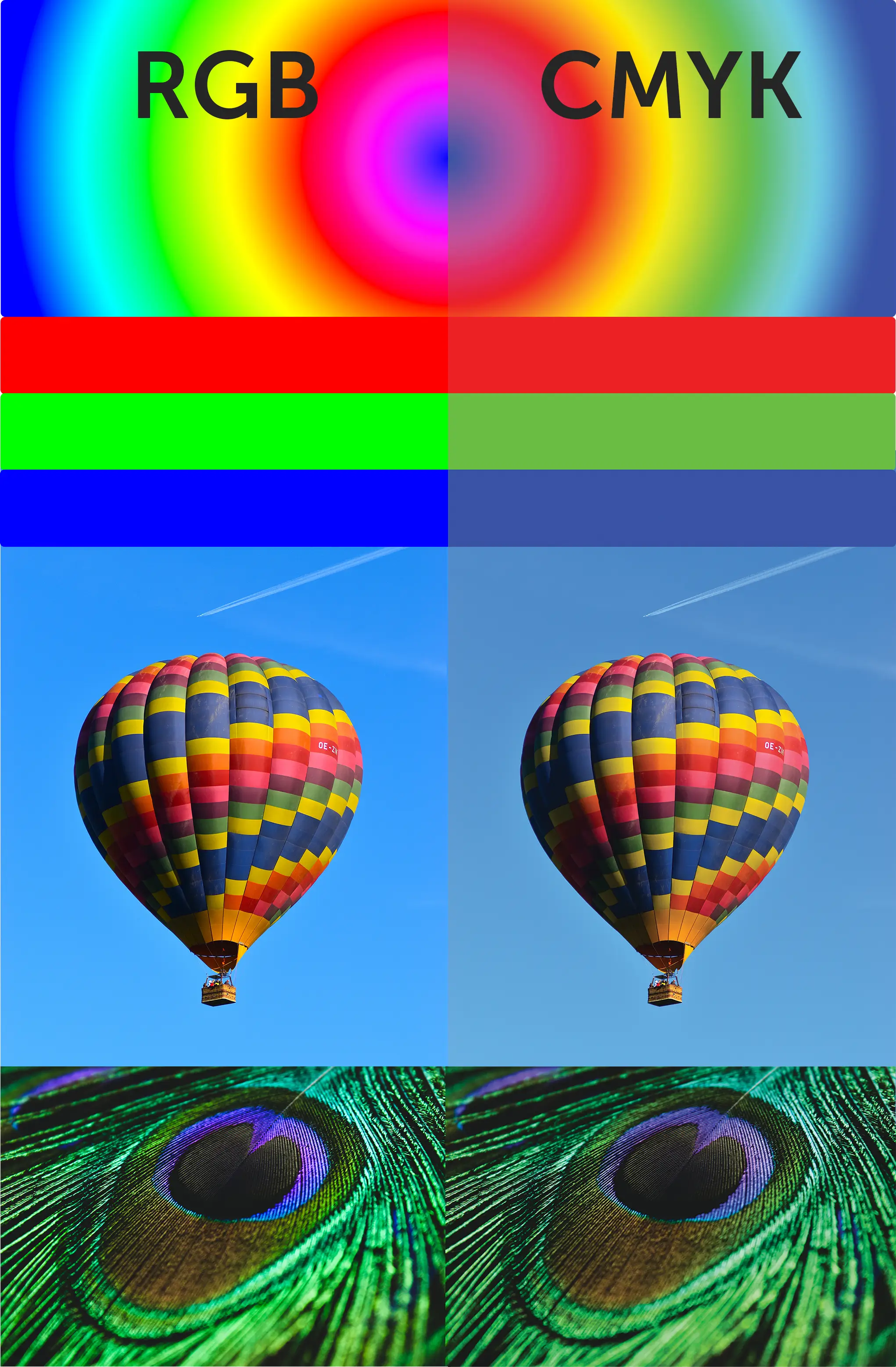 RGB on the left, CMYK on the right.
Looks scary, right?
It looks scary but is it really that important?
The answer, I'm sorry to say, is that it depends.
If your game has a lot of illustrations with colours that tend to look dull when converted to CMYK (bright blues and greens especially), then you may want to ask your artists to work in CMYK from the very beginning. Or you might decide to deal with it down the track when your files are being prepared for production.
If your game has very few illustrations, you might decide to ignore it completely.
Ultimately, you get to make the decision for your game.
How to be sure what you'll get
The surest way to be certain is to do a full test print on the same machine that will be used for the production run, but that's extremely expensive to do. Here are some other suggestions:
Grab a book of CMYK swatches from your preferred online retailer. There are lots available:

Color Index XL

by Jim Krause is well-reviewed and regarded. Use these to help guide your decisions.

If you are working full-time as a designer, consider splurging on a set of Pantone swatches. A copy of the new

CMYK Color Guide

contains over 2,800 different CMYK swatches printed on coated and uncoated paper. Or

Pantone's Color Bridge

if you're feeling really fancy - you get the PMS and CMYK swatches side by side for comparison with the matching codes for PMS, RGB and CMYK.

Talk to your manufacturer about it. When it come down to it, they are experts in colour reproduction, and I've never encountered a manufacturer who wasn't happy to take some time to help me understand more about what I was trying to accomplish.

Talk to colleagues in the industry. Ask them how they handle it, whether they've ever had any bad or unexpected results with colour.
Get in touch
Got a question for us, or suggestion for a blog article? Reach out - we'd love to hear from you!
Image credit:
Related articles in Level up